In Loving Memory - John Krause
US Navy Veteran and US Air Force Veteran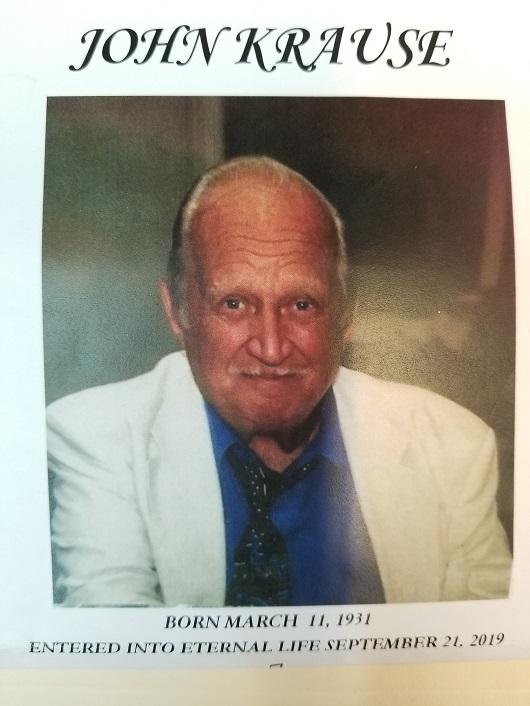 In Loving Memory - Brendan Devine
February 11, 1943 - May 29, 2017
Brendan Devine was born the 5th child and 3rd son of Paul and Catherine Devine in Bronx NY.

Brendan attended St Benedict's grammar school and Rice High School in Manhattan.

After completion of his senior year in high school Brendan enlisted into the Navy reserves at Fort Schuyler, Bronx NY . Having completed training he was scheduled to leave on his 2 year deployment. However, that never happened. The Navy found out that he had polio and discharged Brendan. Knowing Brendan and his demeanor of having not been taken, he went and had a complete physical exam at N.Y.U. medical center in Manhattan. Having passed his exam he entered the Army for 3 years and became a field medic in Viet Nam. Being discharged and unhappy, he reenlisted again for another 2 years. Still unhappy, he signed up again and his 22 year career of being a medic, medical photographer, recruiter in the Bronx and Mt Vernon, and instructor were among his many positions while serving in the Army.

Brendan received many awards after he left the Army life. After his discharge, Brendan became a military instructor in Maryland. Brendan then began working at the VA hospital in the Bronx. Starting at the bottom in the VA system he completed his college degree and over the next 12 years he earned two master degrees from Iona College. Being Brendan and with his Army background he "as they said it, was his was or not at all". Having worked 20 years in the VA system, Brendan got involved with the American Legion Post 253 and volunteering his time at the VA hospital . It seems fitting that Brendan passed on Memorial Day May 29th 2017 after a long battle with a heart condition (yes he had one.) Just a family joke.

Brendan leaves behind 4 children: Shannan, Michele, Kimmy and Brenda along with one grandson Jalen and his five brother and sister siblings .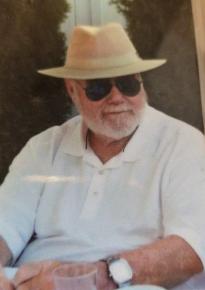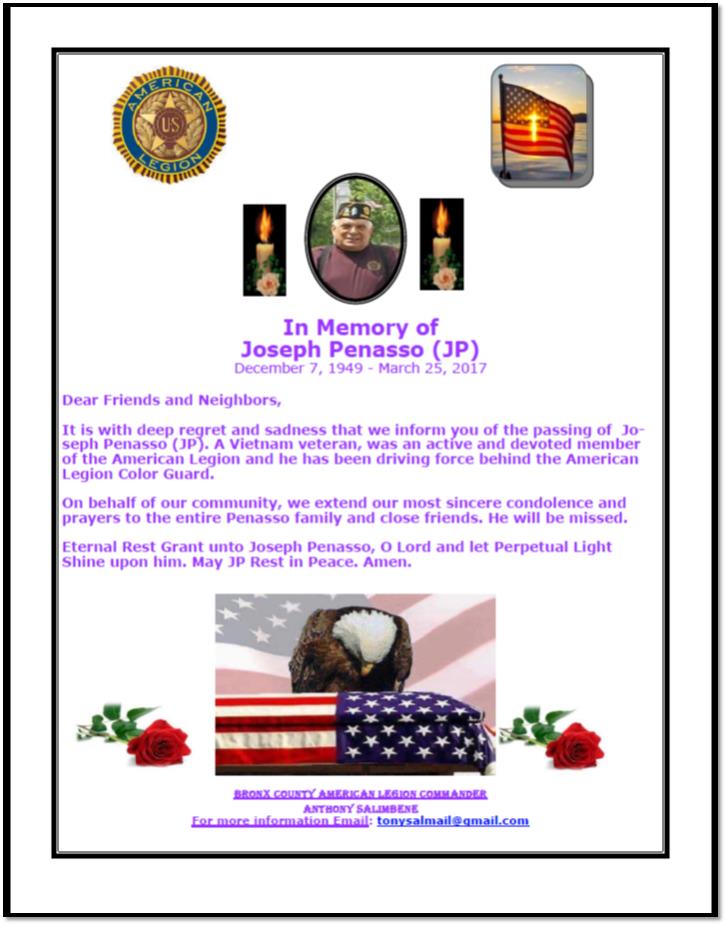 In Loving Memory of Joseph Garofalo
November 15, 1920 - March 13, 2016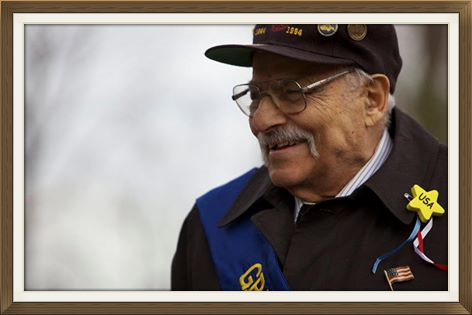 A beloved Morris Park World War II veteran who fought to have his community never forget our nation's heroes was remembered this week.
Local WWII veteran and Bronx Veterans Museum founder and curator, Joseph Garofalo passed away last Sunday, March 13. He was 95-years-old.
Born on November 15, 1920, Garofalo grew up in the south Bronx near Prospect Avenue before enlisting into the armed forces.
From 1942 to 1945, Garofalo, then 22-years-old, served as a petty officer second class for the Navy's Seabees 121st Naval Construction Battalion attached to the fourth Marine division.
During his tour, the Navy veteran fought and participated in three invasions in the South Pacific theater including the battles of Saipan and Tinian in the Mariana Islands and the Battle of Kwajalein in the Marshall Islands.
Garofalo and his family moved to Morris Park in 1955 where they continue to reside.
An active community and American Legion member, Garofalo served on the Morris Park Community Association and the Knights of Columbus.
Many years after the war, Garofalo felt his community was not doing enough to remember our nation's veterans and set out with his friend of 43 years, Angelo Pinto, a war historian and collector, to create the Bronx Veterans Museum.
Their efforts to find a home for the museum were rejected by many businesses until John Dormi and Sons Funeral Home stepped up and graciously provided the space in 1999.
The Theodore Korony American Legion Post 253 and Christopher DiCostanzo, the funeral home's director provided the funds for the museum's build out.
Located at 1121 Morris Park Avenue, Dormi's lobby houses a room-sized museum showcasing many WWII military artifacts donated by Garofalo, Pinto and other veterans and has since become a focal point in teaching P.S. 108 students about their nation's history.
"Joe wanted this museum to teach people about their history," said Tony Salimbene, Community Board 10 second vice chairman.
Garofalo's mission to establish the museum was chronicled in the Erik Spink-directed documentary, 'The Scavenger' which is shown every year at P.S. 108's Veterans Appreciation Day Celebrations held in November.
This film was also featured in the 2010 Bronx International Film Festival at Lehman College, Spink noted.
Charles Sperrazza, P.S. 108 principal, and Michael Tierney, custodian engineer of P.S. 157 and formerly of P.S. 108, were notified of their longtime friend and collaborator's passing.
Sperrazza said he met Garofalo seven years ago when Tierney, a WWII historian, established a program connecting young students with local veterans to learn about history from those who experienced it firsthand.
"We feel blessed that we had the opportunity to have a friend like Joe. He was a fighter and even at 95-years-old he always kept pushing no matter what," Sperrazza said.
Sperrazza said P.S. 108 plans to honor Garofalo's memory at this November's 8th Annual Veterans Appreciation Day Celebration.
In a fitting tribute, Garofalo was waked on Tuesday, March 15 at Dormi and Sons Funeral Home and a Mass at St. Francis Xavier Church was held for him the next day.
The local WWII hero was laid to rest at St. Raymond's Cemetery.
By Robert Wirsing – Bronx Times Reporter – March 23, 2016